Samplesapp Recognized for Innovation
Samplesapp – a simple-to-use technology for flooring retailers – was recently recognized as the Best Innovation in the 2023 "Best of" Awards Program at The International Surface Event this year.
The award is cosponsored by Floor Covering News and Informa Exhibitions, which owns and operates The International Surface Event (TISE). The "Best of" program celebrates industry innovation and ingenuity and highlights exhibitors' contributions to the floor covering industry. Winners of the 12th annual awards are selected by a panel of floor covering retailers.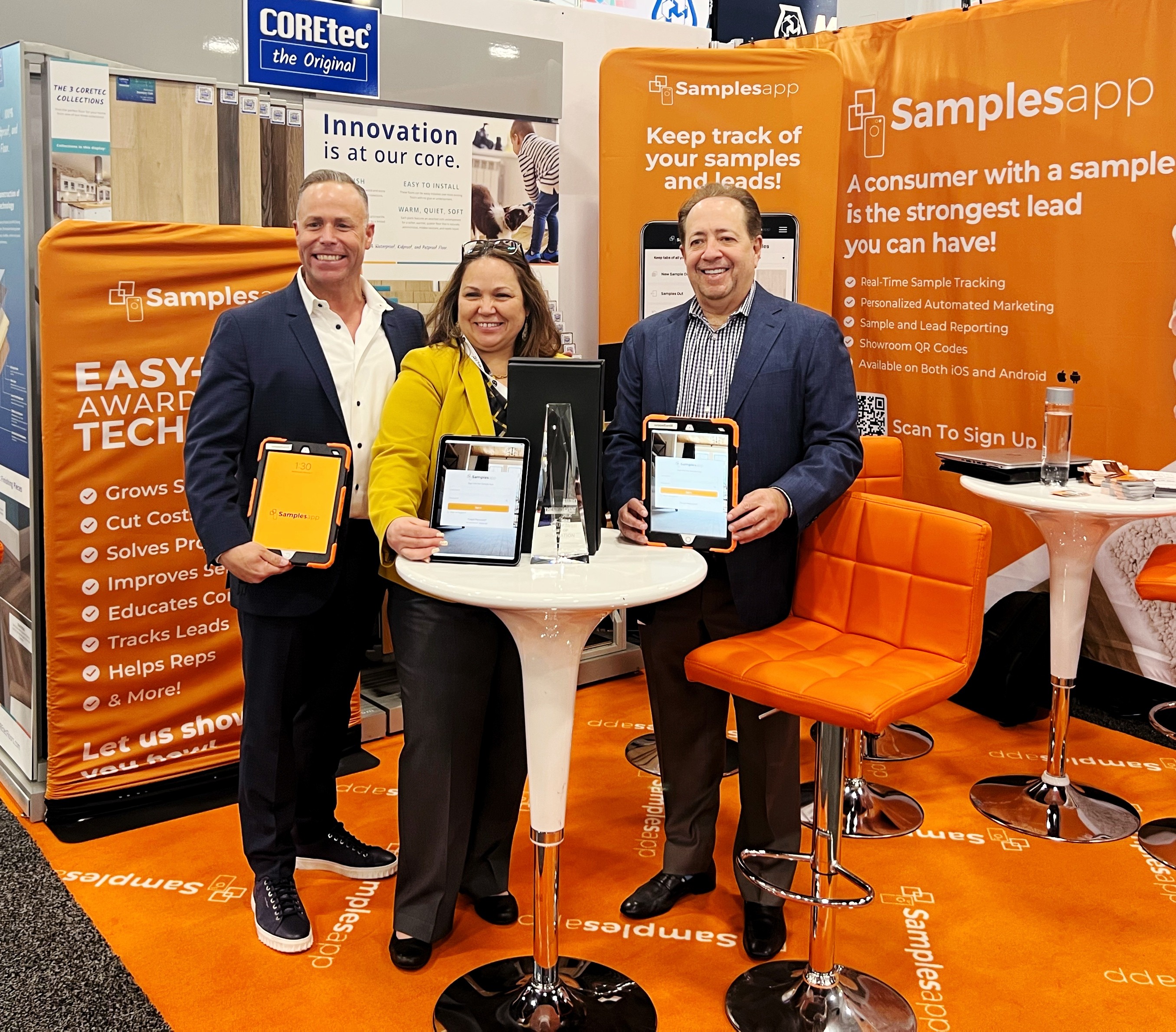 Samplesapp – free to all flooring retailers – helps retailers cut costs by solving the long-standing challenge of samples leaving the store and never being returned. It also helps store owners grow sales and improve service during the all-important consideration phase of a flooring purchase.
"This technology is a game changer," said Jason O'Krent, of O'Krent Floors in San Antonio, Texas. "Our best-selling styles are naturally the samples that are in highest demand. Keeping track of them and getting them back quickly makes a huge difference in our profits… Providing better customer service along the way is an unexpected bonus."
The team behind Samplesapp recognizes that a consumer with a sample is the strongest sales lead a flooring retailer could possibly have. This tool makes it easier than ever to keep track of both the samples and the sales leads.
"These awards are a benchmark of excellence in our industry, and we're incredibly honored to receive the Best Innovation award," said Carole Cross of Retail Samples Solutions, the company behind Samplesapp. "We want to provide solutions and solve challenges that can make a real difference for flooring retailers. As a technology company, we strive to be innovative, so this award is especially meaningful."
With a simple check-out and check-in process, Samplesapp starts a series of personalized, helpful email and text messages between the retail sales associate and the customer — building a greater connection between the two. Samplesapp solves a range of problems for every key stakeholder in the floor buying process, including manufacturers, reps, store owners, retail sales associates and ultimately consumers.
"You always go to these conventions looking for that golden nugget, and Samplesapp is it," said Chris Mostad, of Loren's Carpet One in Missoula, Montana. "I'm really excited about it. I like that you don't have to have a QR code and can just take a photo of the sample. It's going to be so easy to use."
For more information or to sign up for Samplesapp for free, visit samplesapp.com.
ABOUT RETAIL SAMPLES SOLUTIONS
Retail Samples Solutions launched Samplesapp in 2022. The company creates solutions and services for retailers and manufacturers in the flooring and home improvement industries and beyond. The technology company offers tools and services that benefit every key stakeholder in the floor buying process, including manufacturers, manufacturer reps, store owners, retail sales associates and consumers. For more information, visit samplesapp.com
ABOUT THE INTERNATIONAL SURFACE EVENT
The International Surface Event (TISE): SURFACES | StonExpo | TileExpo has served nearly 30 years as an industry marketplace for floorcovering, stone, and tile businesses to come together, seek products and services, build relationships and develop their businesses. For more information, please visit www.intlsurfaceevent.com. To view the sponsors of TISE, visit the industry association page on the event website.
ABOUT INFORMA MARKETS
Informa Markets creates platforms for industries and specialist markets to trade, innovate and grow. We provide marketplace participants around the globe with opportunities to engage, experience and do business through face-to-face exhibitions, targeted digital services, and actionable data solutions. We connect buyers and sellers across more than a dozen global verticals, including Pharmaceuticals, Food, Medical Technology and Infrastructure. As the world's leading market-making company, we bring a diverse range of specialist markets to life, unlocking opportunities and helping them to thrive 365 days of the year. For more information, please visit www.informamarkets.com.