Samplesapp Streamlines the Sales Journey
JANUARY 27, 2023 – FCW sat down with Carole Cross, founder and CEO of Mobile Marketing LLC, to discuss Samplesapp, "the strongest sales lead a flooring retailer could possibly have," she said. Introduced in 2022 by Retail Samples Solutions, a company founded by Cross and a retail partner, the app is industry wide and readily available for retailers, even those not currently partners with Cross' Mobile Marketing business.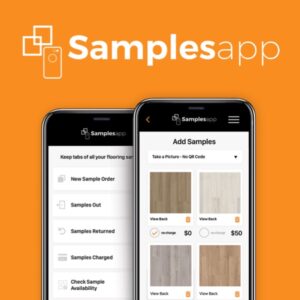 Cross worked alongside her retail partner — the concept has been first and foremost about stopping lost sales due to top selling samples missing from showroom displays. This loss is "very painful," noted Cross, as "there's almost very little communications that happen when the customer actually has the sample at home."
The manufacturers and distributors spend tens of millions of dollars trying to manage the samples into all of their displays and essentially have no insight on when they are being checked out or looked at, Cross explained. And, there is essentially no way to communicate with the consumers about the key features and product benefits of the samples they have taken home with them.
Read the full article by Floor Covering Weekly.